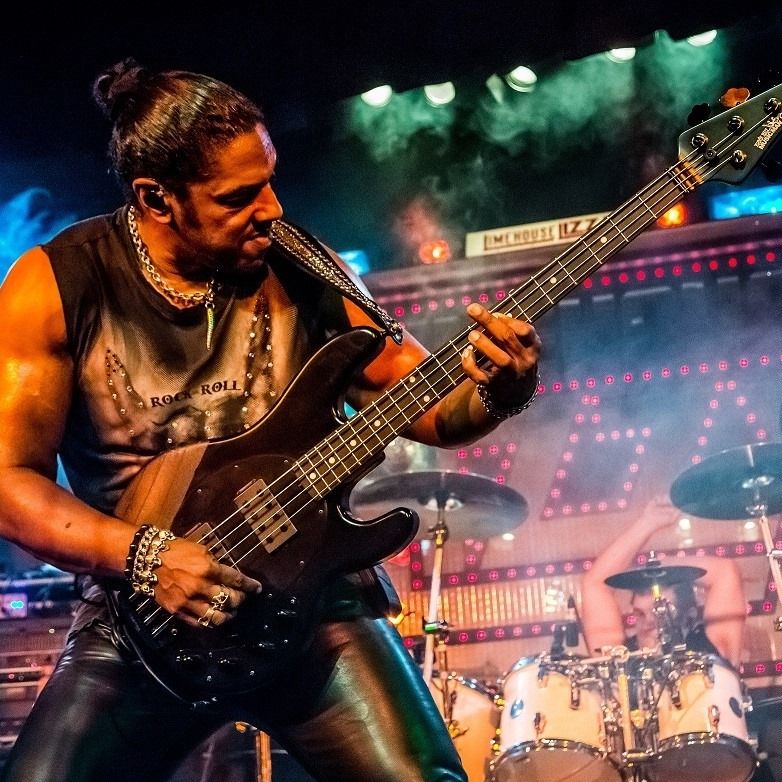 LIMEHOUSE LIZZY
Now in their 3rd decade, Limehouse Lizzy continue to keep the spirit of Celtic rock icon Philip Lynott and his band Thin Lizzy alive, still relevant and dominating stages worldwide.
From their official PRS/Billboard award, performing for Virgin Atlantic in Barbados, tv appearances (BBC 2's 'Arena' amongst others), and to being recruited to record and tour by none other than original Thin Lizzy member BRIAN ROBERTSON (Thin Lizzy, Motorhead), Limehouse Lizzy emerge from this lockdown year with their most explosive show and accomplished line-up yet.
Building on pre-COVID schedules inclusive of international tours (UAE, Germany and previously USA, Scandinavia, Caribbean etc.), corporate clients (Mitsubishi, NatWest) and even book appearances (The Rocker, Send In The Clones), they started the summer of 2021 with the usual busy tour schedule, concluding the year with a full UK tour with original glam-rock legends 'The Sweet'. 
 "Limehouse Lizzy's Wayne Ellis, an uncanny ringer for Phil Lynott..." THE GUARDIAN
"great entertainment for more than a decade…fantastic live music" BBC2 ARENA
"if you're sceptical about tribute acts, you won't be after seeing Limehouse Lizzy" THE RADIO TIMES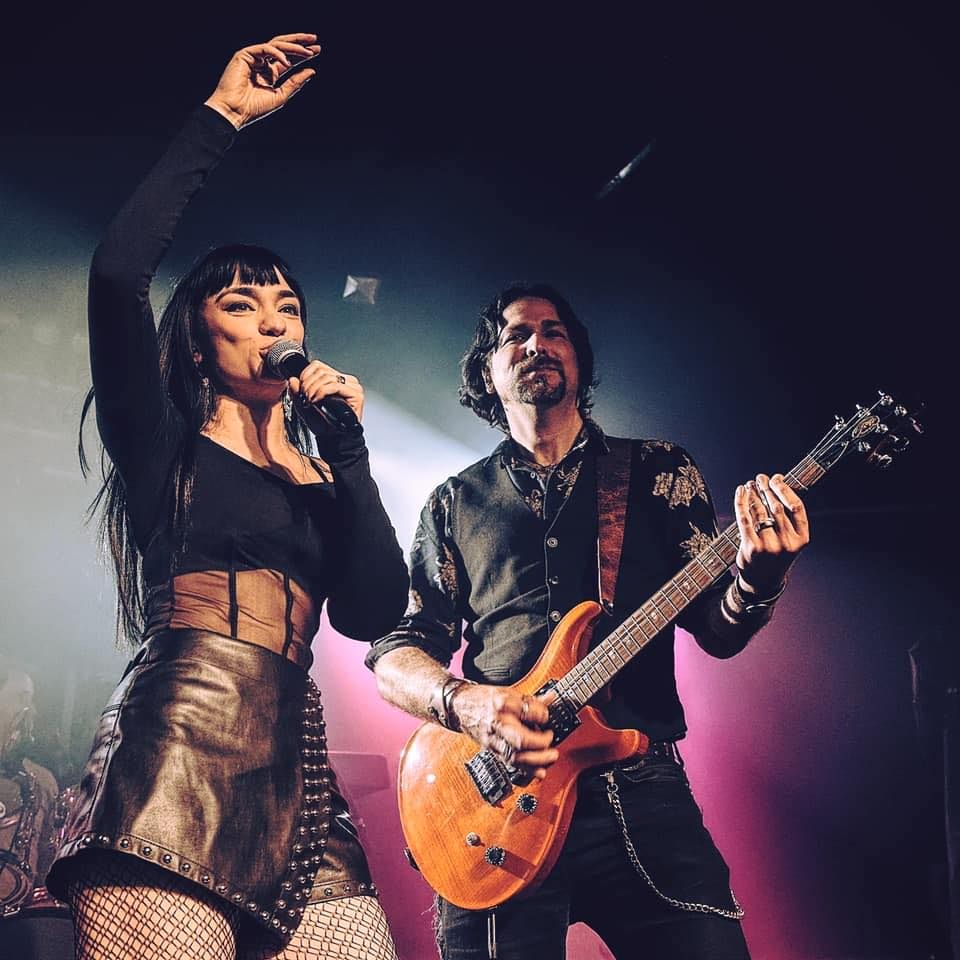 WHEN RIVERS MEET
Combining powerful and heartfelt vocals with thundering guitar riffs, Essex-based Blues Rock band When Rivers Meet offers originality with both talent and winning personalities. Grace Bond leads with her incredible vocals, as well as bringing raunched-up mandolin and violin instrumentals. Her husband Aaron Bond commands attention with his imaginative guitar and cigar box playing and also complements with compelling vocal harmonies… a winning formula.
Since bursting on to the UK music scene with their debut The Uprising EP in April 2019 followed by their second EP Innocence of Youth in May 2020, husband and wife Grace and Aaron Bond have released two critically acclaimed studio albums We Fly Free (2020), which reached #1 in the Blues Album Charts on iTunes.  Their sophomore album Saving Grace (2021) charted #2 UK Official Jazz & Blues Albums Chart, #5 UK Official Album Downloads Chart, and #6 UK Official Independent Albums Chart Top 50.
When Rivers Meet were the first band to win four awards at the UK Blues Awards 2021 and another three awards in 2022, including Blues Band of the Year on both occasions. Last year WRM were voted Best New Band at Planet Rock's The Rocks Awards 2021, and in 2022 won the Blues Power Award and Album of the Year (Saving Grace), beating Iron Maiden who came second place.
In 2022, the husband and wife duo show their chemistry on stage, performing 17 dates along with powerhouse bass and drums on their first UK Headline Tour to mostly sold out crowds, receiving rave reviews for their captivating stage presence and blistering performances.
We are delighted, and honoured, to welcome When Rivers Meet to their THIRD Alfold Rock & Blues Festival.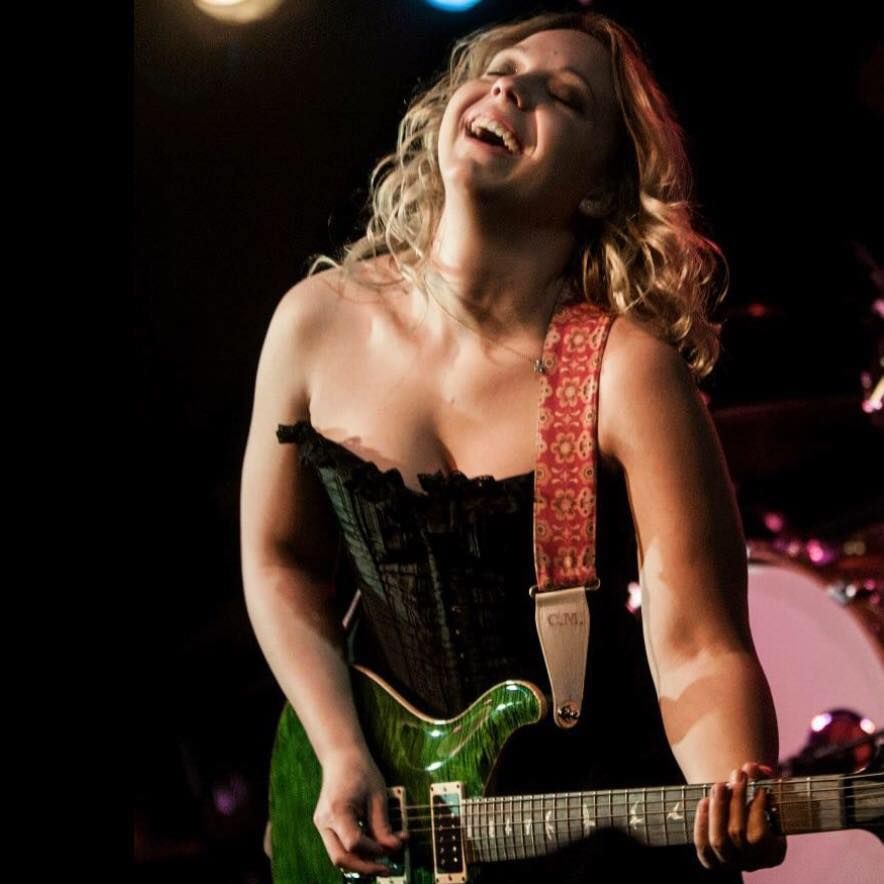 CHANTEL McGREGOR
The Blues came calling first, but rock was always waiting around the corner. Well it would be, wouldn't it? Coming from the deep south, it was inevitable, but living in the deep south of a major Yorkshire City, there's a gritty hard edge to life!
​A female guitar prodigy, Chantel was told by a major label that she had a "great voice, but girls don't play guitar like that!" Wisely ignoring their comments, she enrolled at the Leeds College of Music and became the first student in the college's history, to achieve a 100% pass mark at BTEC, with 18 distinctions. Chantel then pursued further education and left with a First Class Honours degree in Popular Music and a coveted prize, the college's musician of the year award. 
​
Chantel released her highly anticipated second album, Lose Control, in October 2015 on her independent boutique label Tis Rock Music, this being the follow up to her critically acclaimed 2011 debut album, Like No Other. 
​After years of touring and festival appearances, Chantel returned with a vengeance with ten new songs that not only salutes contemporary rock, but shows her gradual transition from conventional Blues to a harder, bigger and bolder rock sound with progressive influences. 
The single, Take The Power, from her latest album, was playlisted for 5 weeks on Planet Rock radio. 
 Chantel recorded a live album at the end of March 2019, this was released on the 6th of September 2019.
Chantel has recently been interviewed for features on Sky News, BBC Radio Five Live and BBC Radio Four.
At the end of May 2020, Chantel was asked by Hard Rock Hell Radio to present a 2 hour show on the Bank Holiday Monday, following this, she was asked to be a regular weekly presenter every Monday morning at 10am - 12pm.
In late 2020, Cleopatra Records released 'Gumbo Blues', a tribute album to Dr John, in which Chantel was one of the featured guitarists.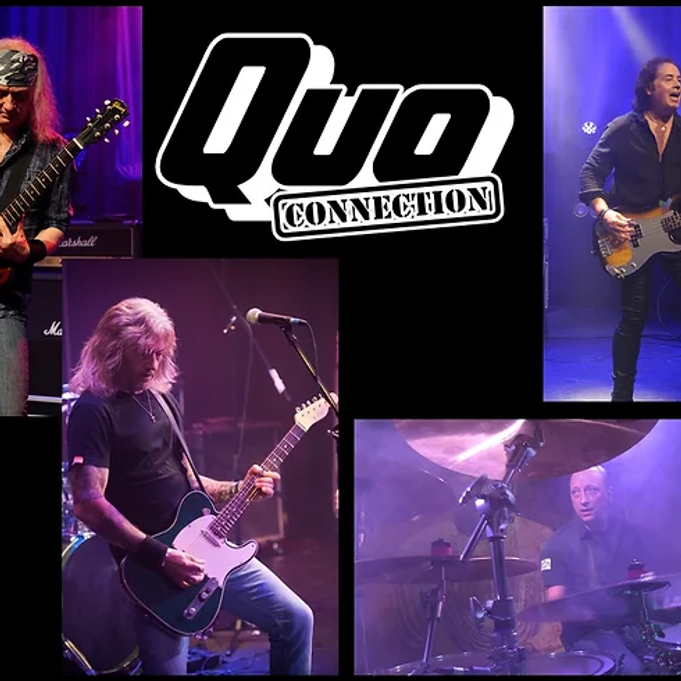 QUO CONNECTION
Ex-John Coghlan's Quo
In answer to overwhelming support, former members of John Coghlan's Quo Mick Hughes, Rick Chase, Pete Mace and Russ Chadd have reformed under the name of QUO CONNECTION in order to begin the next chapter carrying on the legacy of Status Quo and John Coghlan. JCQ had been in existence for twenty-five years in various forms, and their final gig with John Coghlan on the 24th of September 2022 was quite aptly played at Butlin's in Minehead where the Quo story first began. The band wish John all the very best with his new projects which are mentioned on his website and Facebook page. Playing many of Quo's hits plus some incredible album tracks, Quo Connection are eager to bring their high-octane show to Alfold 2023!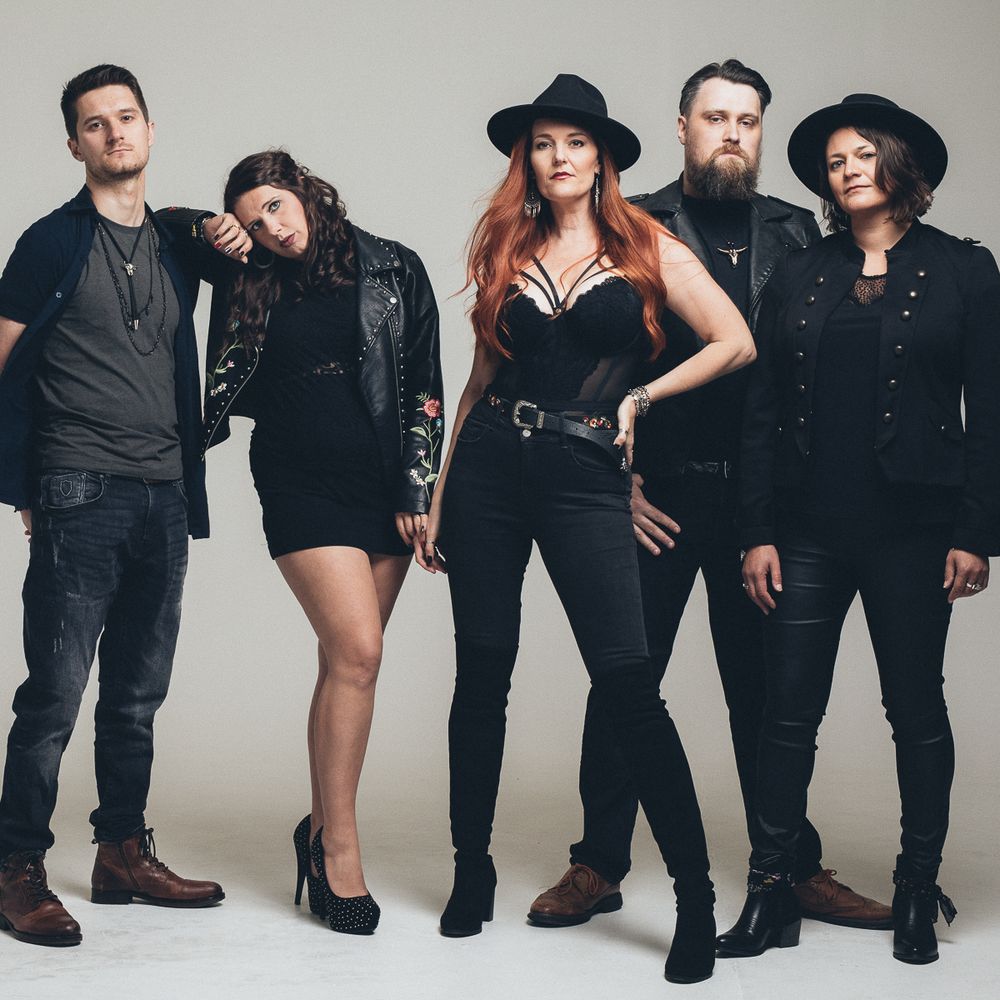 BRAVE RIVAL
Brave Rival are the South East's brand-new rip-roaring rock and blues Machine. Hailing from Portsmouth, the UK Blues Award Nominated band features the powerful and beautiful twin vocals of Chloe Josephine and Lindsey Bonnick. On lead guitar, providing dramatic guitar solos and crunching rock riffs is Ed "The Shred" Clarke. And holding it all together is the rhythmic backbone, the self-proclaimed engine room of Billy Dedman (bass) and Donna Peters (drums).
Drawing influence from the likes of John Mayer, Aretha Franklin, Heart, Fleetwood Mac, Led Zeppelin and Tedeschi Trucks, Brave Rival offer a style and sound that you've always known, and yet never heard before.
Since their inception in the summer of 2019, Brave Rival have gone from strength to strength, featuring in Raw Ramp Magazine as one of the 'Top 20 Bands To Watch In 2020' and nominated for 'Breakthrough Act 2019' by Get Ready To Rock Radio.
At the turn of the decade, hot off the heels from supporting blues rock giants such as Stevie Nimmo and The Billy Walton Band, Brave Rival captured their raw energy live by recording their headline set to a gracious sold-out audience at Hook's famous Echo Hotel Music Club. This fabulous set of early material was quickly released to critical acclaim as their first Live Album 'Brave Rival Live at the Echo Hotel Music Club'. Keeping the momentum going, a Kickstarter was launched for their first studio album with the target easily reached by their loyal fanbase with time to spare. It was then time to repay that loyalty with a studio album. Little did they know however, that the world was about to change forever.
With the pandemic putting the brakes on recording plans, Brave Rival spent much of the UK Lockdowns writing new material via the power of Zoom calls and Google drive. The abundance of material produced served them well for the eventual recording of their debut album in the summer of 2021. Recorded at The Mayfair Studio in the picturesque Surrey countryside with producer/seducer Tarrant Shepherd at their side, Brave Rival's highly anticipated debut album "Life's Machine" arrived on May 6th 2022 to critical acclaim. Emerging Rocks Bands Magazine said it best when they described the album as "Boss blues energy from start to finish". Similarly, Powerplay Magazine finished their ten out of ten review by saying that "Brave Rival have unleashed one lean, mean and well oiled machine!"
Tipped as one of Joe Bonamassa's "favourite discoveries this year" the future is looking incredibly bright for this young up and coming band. A successful set on the introducing stage at the 2022 Great British Rhythm and Blues Festival in Skegness saw them win the competition, securing a deserved place on the main stage in 2023. The relentless gigging and hard work in 2021 has also paid off for the band with a UK Blues Award Nomination for Best Emerging Blues Band.
Brave Rival are a band on a meteoric rise, firing on all cylinders and are about to take the world by storm. Their unique combination of beautifully harmonic, soulful vocals, epic guitar solos, pounding drums and powerful bass serves up an infectious sound that is not to be missed.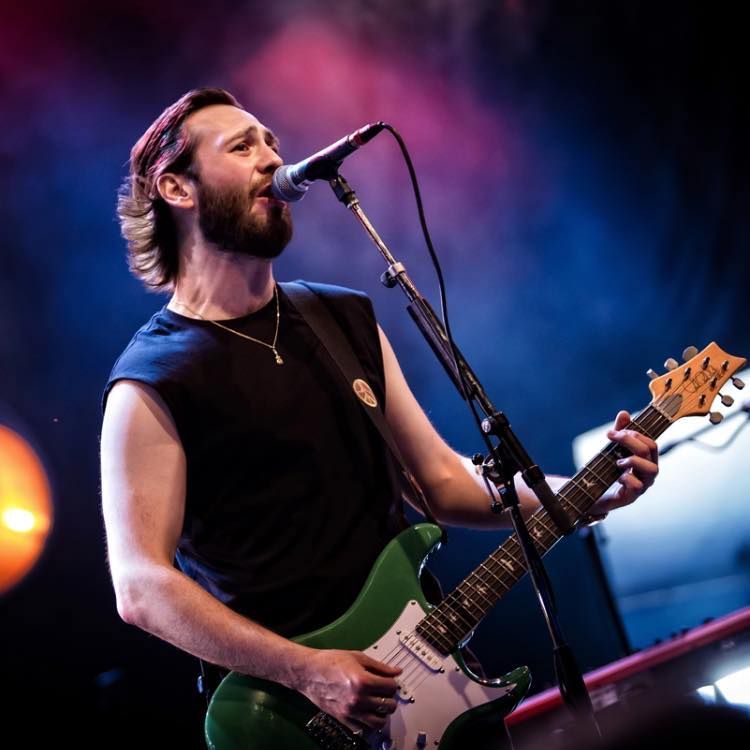 LAURENCE JONES
VOTED IN THE TOP 10 "BEST BLUES GUITAR PLAYERS IN THE WORLD TODAY" 
MUSIC RADAR 
​Laurence Jones has developed a virtuoso pedigree as the UK's hottest guitar-slinger & often gets compared to a young Eric Clapton. With coruscating riffs, soloing and catchy songs, his cross-over sound has won him several major awards & accolades, playlisted on national radio stations & supported the likes of Sir Van Morrison, Sir Ringo Starr, Status, Quo, Buddy Guy, Jeff Beck & many more stars. 
 This year Marshall Records (the legendary amp company) signed LJ and brought in Chris Sheldon (Foo Fighters, Biffy Clyro, Feeder) to mix the new album. Polished to perfection and mastered at the famous Abbey Road Studios. Catch this and more on his new critically acclaimed album 'Destination Unknown'. Laurence Jones has played at some of the most prestigious venues in the world, including The Royal Albert Hall in London & The Carnegie Hall in New York. 
 Blues legend Buddy Guy personally invited Laurence to join him on stage at the 2017 Holland International Blues Festival in front of an audience of 15,000...
​INTRODUCED INTO THE "HALL OF FAME BRITISH BLUES AWARDS" FOR WINNING "YOUNG ARTIST OF THE YEAR" FOR 3 CONSECUTIVE YEARS  ; BRITISH BLUES AWARDS 
​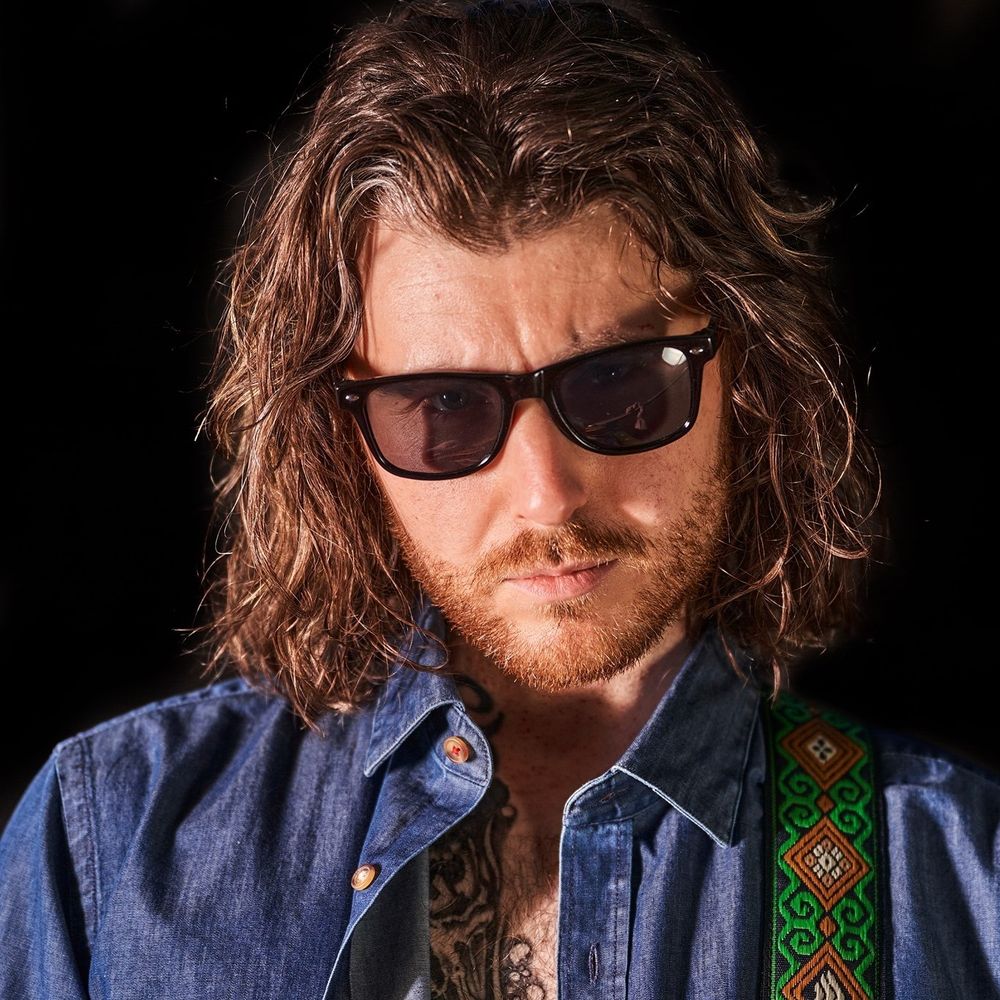 DOM MARTIN
Although a young man relatively new to the scene, it would be wrong to think Dom Martin hasn't paid his life and musical dues. Brought up in the often tough, but community driven streets of Belfast Northern Ireland, Dom traded his craft for a time locally without a (self confessed) clue how to break into the (international) music business and possibly with too much humility to try. 'Discovered' by his present management, Dom has made a fairly 'meteoric' rise in terms of today's industry,
His jaw dropping, entirely natural sounding and unforced/unschooled skill on acoustic guitar, matched with an authentic 'Belfast Blues' voice, brings to mind comparisons with many from John Martyn to Rory Gallagher, with nods to many in-between, not least perhaps the likes of Van Morrison and Foy Vance. Dom has won multiple awards for his acoustic work with a 2019 European award, UK awards in 2020/2021 and 2022 and as a result is now an inductee in the UK Blues Hall of Fame.
Dom is equally adept on electric with his power trio, having won the UK Blues Awards Best Instrumentalist Award 2022. The trio is always an extremely popular addition to any blues/rock festival and Dom always likes to include a Rory Gallagher song or two amongst his originals as he strives "to keep Rory's music alive".
 Dom Martin is a very busy man indeed with a rapidly rising profile in the blues world. In April 2022, Dom released his sophomore studio album "A Savage Life" to rave reviews in the blues press and he was featured in and pictured on the front covers of "Blues Matters", "Blues in Britain" and French magazine "Blues & Co".  In May 2022 Dom was nominated in an unprecedented 5 categories at The UK Blues Awards (Blues Vocalist of The Year, Best Album of The Year, Best Blues Band of The Year, Blues Instrumentalist of The Year and Acoustic Blues Artist of The Year with Dom lifting the last two and playing at the awards ceremony in London. Also in May 2022 he played the KTBA Streamathon (hosted by Joe Bonamassa) and he also made his USA festival debut in Omaha Nebraska following him representing the UK at the IBC in Memphis in the solo/duo category, narrowly losing out in the semi finals to the eventual category winner.
 Hailed by many as the greatest Irish export since Rory Gallagher, 2023 is ripe for the picking for this multi award winner.
"Dom Martin is the next rising star in the global roots scene. Jump aboard now before he passes you by." – Rock and Blues Muse
"A rare talent of SUCH sheer genius"  Blues in  Britain
"The Belfast guitarist is a sprawling talent" - Classic Rock Magazine
"Absolutely wonderful Stuff" Cerys Matthews -  BBC Radio 2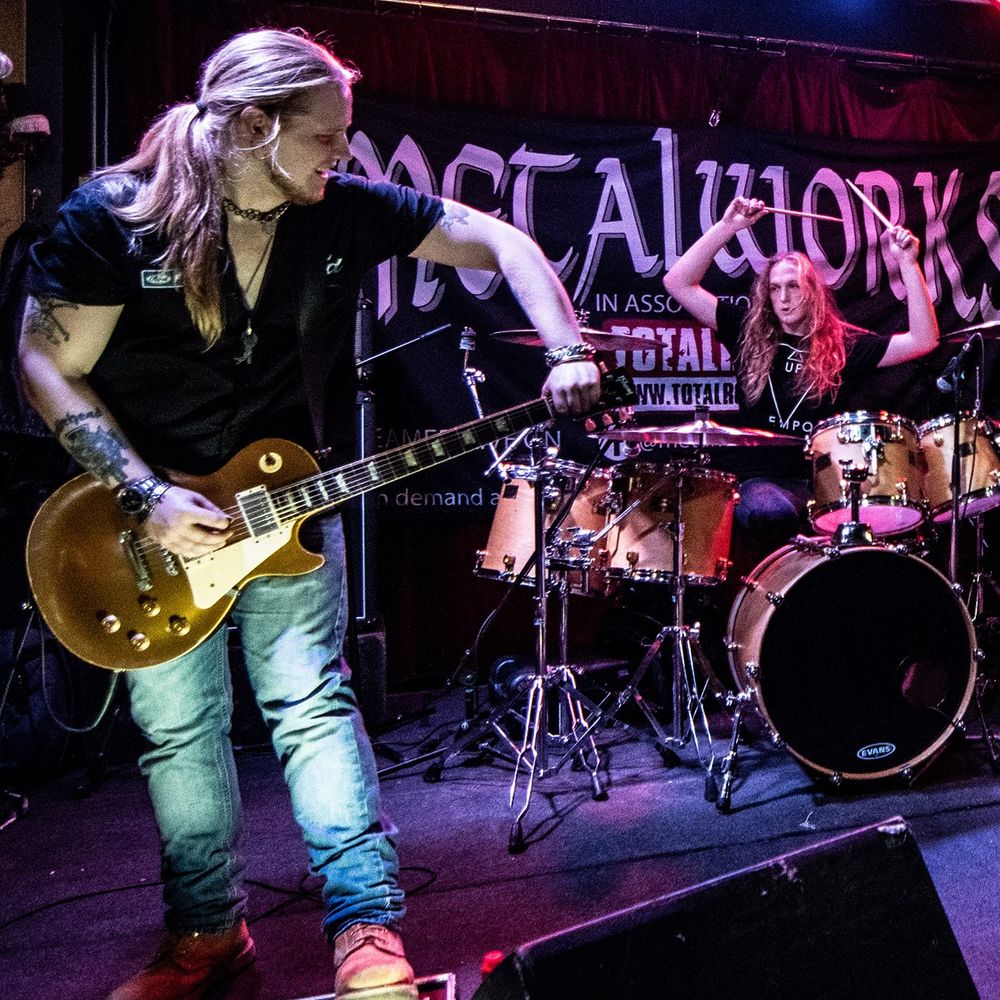 VOODOO LAKE
Voodoo Lake are a Classic/Blues Rock three piece band hailing from the South East of the UK.
Voodoo Lake was formed in 2017 when Dave Strange decided it was time for him to follow his heart with a band playing music influenced by blues, classic and southern rock, Joining Mark 'Bomber' Randon on bass and James Fileman on drums.
​Dave has a background of many genres of rock, having recorded his first EP at the age of 16 with producer/bass player, Cass Lewis of Skunk Anansie. The band he was in at the time went on to record an album, both of which were never nationally released as the band broke up.
Dave continued playing with covers bands , and eventually joined Midnight Messiah with whom he toured with in Europe and recorded two albums.
Whilst still working with Midnight Messiah he joined Kevin 'Skidz' Riddles in the ranks of Tytan, writing and recording a new album at the end of 2018 with the sadly now departed producer Chris Tsangarides (Thin Lizzy, Gary Moore, Black Sabbath etc..). Dave has performed through out Europe & UK with Tytan.
With Voodoo Lake the music presents the Classic/Blues rock based feel that Dave writes with the band, and performs on both guitar and vocals generating memorable guitar driven riffs and gritty lyrics
​Mark 'Bomber' Randon bass player and guitarist is an established stalwart of the music scene playing with many bands over the years, including Drug Dealer Cheerleader, Empyre, Monterrez and Waterbratz having supported such bands as Guns N Roses, Tesla and Michael Monroe at the Marqee. He has toured and played many genres of rock, and is also a key member of London rockers Soho Dukes and Bad Boy Boogie (AC/DC Tribute). It was whilst playing in covers bands that Dave and Mark got together with  the idea that their various experiences could be pooled to produce the solid sound Dave was looking for.
James Fileman is a young drummer with the passion to succeed, developing his skills playing in many covers bands. being self taught he has developed a strong sound with an original feel that provides, along with Bomber the solid back line that comes through in the music of the band. James, 'Bomber' and Dave all met whilst working in covers bands which is why they present a feel of having been together for a long time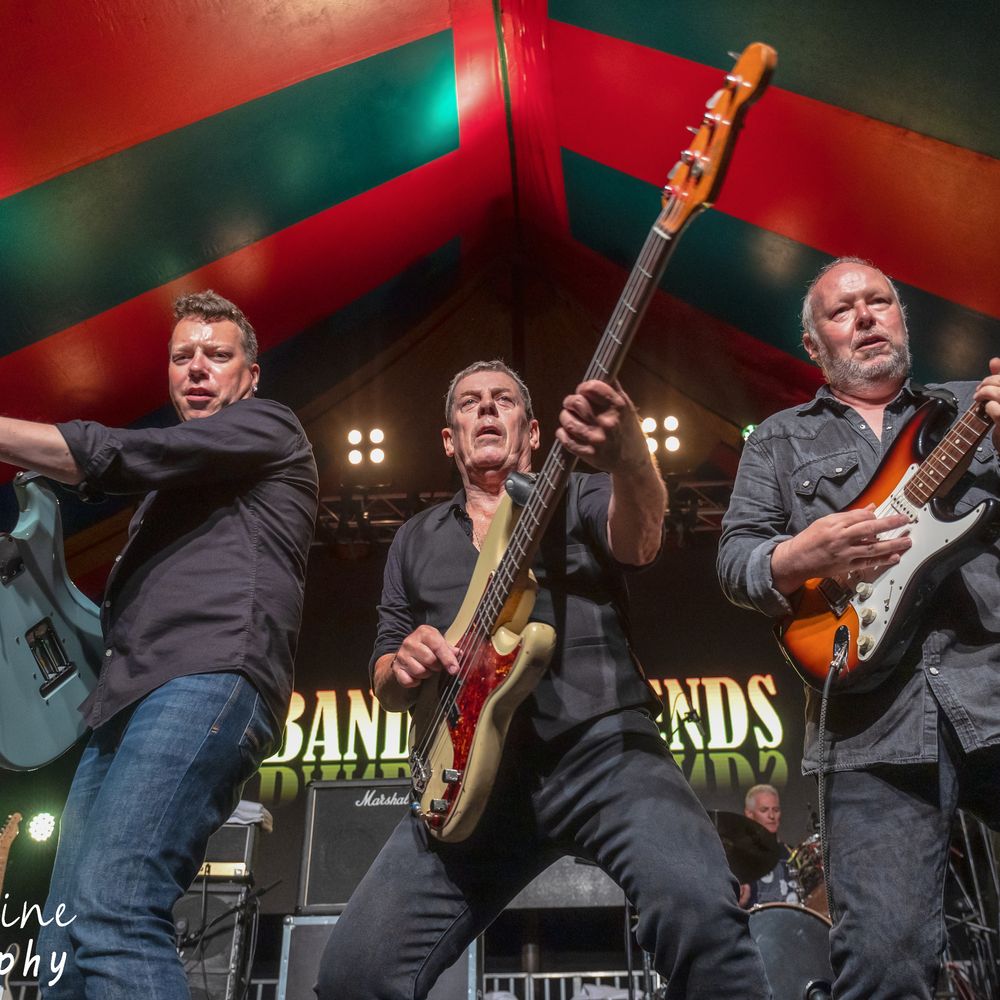 BAND OF FRIENDS
Celebrating the music of Rory Gallagher
Gerry McAvoy (Bass Guitar) played, recorded and toured with Rory for 20 years, from 1971 to 1991. Gerry played on every album Rory ever made.
His 2005 book, 'Riding Shotgun' follows his career and life with Rory (available from www.ridingshotgun.co.uk).
Gerry also played with Deep Joy, Champion Jack Dupree and Nine Below Zero.
Brendan O'Neill (Drums) Brendan and Gerry grew up together in Belfast, attending both the same Primary school and Secondary school.
They formed their first band together at school in 1967. The band was Pride.
Pride developed into Deep Joy.
They went on to play together for a few years, until Gerry got the call to join Rory.
In 1981 when Rory was looking for a new drummer, Brendan stepped up to the rostrum.
He then played with Rory and Gerry for a further 10 years.Then played with Nine Below Zero for more than 20 years.
Brendan is now playing most shows with Band of friends.
Paul Rose (Guitar) A guitar players guitar player.
He has played with some of the top names in the business.
He was picked by Rory out of 1000 young guitarists to win the Fender sponsored best guitarist competition.
Jim Kirkpatrick (Guitar/Vocals) Jim Kirkpatrick grew up listening to Rory's music.
He also plays with his Band FM.
" Really has the atmosphere of a Rory concert" – Lust for life"
"This is not a tribute band but a group of its own. The group works wonders" – Rock & Folk " Sparks fly from the first note. The Band of friends is pure cracker" – Blues focus
"The pleasure flies in your face" – Voor
"A sturdy pot of blues rock-they impressed, and not only me" – Bluesbreaker
"Emotional highlights – a fantastic interpretation" – Rockblogblues
"In the music industry its hard to find something this well done. Priceless" – Miuskk.com